Okay basically, this is my first time talking about this becuase I've never had anywhere to ask for help.
I'm 16 and uncircumcised (I live in England.. so yeah).
MY problem is that my fore skin doesn't retract and seems too long. The tip of my penis is about 3/4 of a cm of foreskin, I don't think that's normal? I've drawn a diagram to help.. seems weird I know but I really want someone to understand it.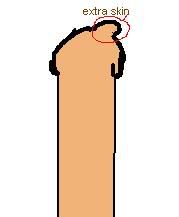 Basically that is what my penis looks like, even down to the fact the end of the foreskin is off placed and pointing towards the right. My 'pee hole' (dont know any other word) is actually central on my penis, but the pee has to find its way out the foreskin because it isnt central to where the pee hole is. Basically this can result in some strange looking pissing and when I piss you can see where the urine is going straight forward and creating a small lump (which if you press will just spray pee everywhere). This problem might not be so bad if my foreskin retracts, but it doesn't. It honestly looks like my penis is getting strangled when I try it, because my penis diameter would never fit through the size my foreskin stretches to. The best you'll get is actually seeing the top of my penis thats underneath the foreskin, but you have to hold it there JUST to see that. My foreskin doesn't pull over the head of my penis full stop.
What the hell should I do? I was with one girl who didn't seem bothered, but she only tossed me off a few times (yeah I can't think of a proper term for that). I wouldn't let her give me a blow job because I'd hate her being that close it and seeing how disgusting it was. Oh and the fact when I ejaculate the semen cannot 'burst' out like a normal ejaculation. Instead the semen can only dribble out without any force whatsoever. Seriously, it knocks my confidence completely.
If I can get this sorted I'd honestly be a different person. I'm unconfident a lot and I'm pretty sure it can all be traced back to this. I'd love to be confident with my body and all that crap.
Cheers to anyone who can help me! I really need it.